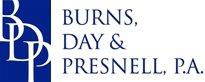 2626 Glenwood Avenue, Suite 560
Raleigh, North Carolina 27608
919-782-1441
Our Experience.
Your Edge.

Our Experience.
Your Edge.

Our Experience.
Your Edge.
Nearly 200 Combined Years of North Carolina Legal Experience
Our firm provides a blend of experience and attainable rates that few other firms can match. If you need help with an estate, real estate, business, or regulatory issue or if you have been injured in an accident – let us show you how we can help.
Burns, Day & Presnell, P.A. is an established law firm comprised of lawyers who bring multiple decades' worth of knowledge to meet our clients' needs. Practicing in a wide range of areas, our lawyers provide client-focused, cost-effective representation tailored to each client's individual goals and objectives. Whether you are an individual in need of representation for an estate dispute matter or personal injury claim, or you are a business owner or executive seeking a trusted advocate and advisor, we have the experience, capabilities and resources to meet your needs.
Our Experience. Your Edge.
Our attorneys have nearly 200 combined years of legal experience, with several of our attorneys having practiced law for 40 years. Prior to joining our firm, several of our attorneys honed their skills at some of the largest law firms in the country. Due to our vast experience, we are able to draw from a wealth of knowledge that gives our clients an edge both at the negotiating table and in court.
North Carolina Lawyers Recognized for their Commitment to Clients and the Legal Profession
Recognized equally for their commitment to their clients and the legal profession, many of our lawyers have received the profession's top awards. Four of our partners have achieved the AV Preeminent® rating with Martindale-Hubbell, and several of our attorneys have been included in The Best Lawyers in America, Super Lawyers, and Super Lawyer Rising Stars. Our lawyers have also received special recognition from the American Bar Association, the North Carolina Bar Association and the Wake County Bar Association.
The Clients We Serve
With our diverse practice areas, we serve a wide range of clients. We are equally comfortable representing individuals, international companies, and all shapes and sizes of clients in between.
Our client base includes:
Individuals in cases involving a will contest, personal injury and wrongful death
Startup ventures for small and medium-sized businesses
Real estate developers, tenants, investors, buyers and sellers
Contractors and subcontractors
Banks and lending institutions
Regulated utility companies
Property owners and developers with utility issues
Contact Us to Speak with an Experienced Lawyer Today
For more information about our attorneys and areas of practice, we invite you to schedule an initial consultation. To get started, please call (919) 782-1441 or contact us online today.
Read More