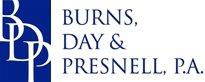 2626 Glenwood Avenue, Suite 560
Raleigh, North Carolina 27608
919-782-1441
Our Experience.
Your Edge.
PRINT THIS PAGE
Practice Areas
At Burns, Day & Presnell, P.A., we bring more than 150 years of combined experience to representing businesses and individuals in North Carolina. Handling both transactions and disputes in a wide range of practice areas, our North Carolina lawyers draw on a pool of collective knowledge and resources that few firms our size can match. Our stature also allows us the flexibility to offer a unique combination of personal service and competitive pricing that you will not find at large firms.
Learn more about the services we have to offer:
Business and Banking
Our business and banking practice involves representing small and mid-size companies in commercial transactions and corporate matters. We provide insightful advice for all stages of the business lifecycle, and rely on decades of both transactional and litigation experience in drafting contracts and undertaking negotiations.
Contract and Business Disputes
From employment matters to commercial litigation and shareholder disagreements, we provide experienced and cost-effective representation for a wide variety of contract and business disputes. In litigation, we focus on achieving favorable, efficient outcomes that minimize the disruptions to our clients' day-to-day operations.
Environmental Regulation and Litigation
Burns Day & Presnell represents companies, developers and other clients involved in a broad range of activities requiring permits to conduct their activities under the land development, air, water and waste programs, and needing regulatory advice on complying with a broad range of State, Federal and local statutes and ordinances.
Estate Planning and Trusts
It is never too early – or too late – to decide how you want to provide for your family after you are gone. Our estate planning practice involves personal counseling and preparation of wills, trusts, powers of attorney, and other estate planning documents.
Estate Litigation
A significant portion of our practice is focused in the area of estate litigation. If you are involved in a will contest, trust dispute, or other disagreement involving an estate plan in North Carolina, our lawyers can advise you of your options and help you enforce your legal rights. We are available to represent all parties of estate-related disputes, including beneficiaries, creditors, administrators, personal representatives and trustees.
Personal Injury and Wrongful Death
We maintain a robust personal injury and wrongful death practice focused on representing individuals and families suffering from catastrophic accidents. From vehicle collisions to aviation accidents and toxic exposures, if you or a loved one has been seriously injured as a result of a defective product, dangerous premises or someone else's negligence, we can help you seek just compensation.
Liens and Construction
Our liens and construction practice involves representing property owners, developers, contractors, subcontractors, business owners and individual investors in transactions, litigation and alternative dispute resolution. We regularly draft contracts and handle complex cases involving liens, performance bonds and a variety of other construction-related matters.
Real Estate
Our real estate clients include developers, builders, lenders, investors, and buyers. Whether you are financing a new development project, purchasing a property or seeking to enter into a commercial lease, you can rely on our experienced real estate lawyers to make sure your interests are protected.
Trials and Dispute Resolution
At Burns, Day & Presnell, P.A., we have decades of experience representing clients in complex disputes involving mediation, arbitration and trial. We believe strongly in helping our clients make informed decisions in trials and dispute resolution and are committed to providing knowledgeable, effective advocacy that produces cost-effective resolutions.
If you are looking for a team of experienced, trustworthy lawyers who make their clients' best interests their top priority, we invite you to contact us for an initial consultation.
Utility Regulation, litigation, and arbitration; Renewable Energy Development
Our utility regulation and renewable energy development practice involves representing clients before various state and local regulatory authorities. We also regularly advise businesses and utility companies on contract, commercial, marketing and legislative issues.
Burns, Day & Presnell, P.A. | Our Experience. Your Edge.
If you are interested in learning more about what the attorneys at Burns, Day & Presnell, P.A. can do for you, we encourage you to get in touch. We welcome calls from business owners and individuals, and we would be happy to discuss your situation and see what we can do to help. To speak with a lawyer at our offices in Raleigh, North Carolina, please contact us today.