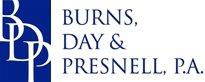 2626 Glenwood Avenue, Suite 560
Raleigh, North Carolina 27608
919-782-1441
Our Experience.
Your Edge.
PRINT THIS PAGE
Industries Served
Learn More About The Industries Our NC Attorneys Serve
At Burns, Day & Presnell, P.A., a significant portion of our practice focuses on representing businesses and entrepreneurs in a wide range of legal matters. With our senior attorneys averaging nearly 40 years of legal experience and several of our younger attorneys having spent time at some of the largest law firms in the country, we bring a wealth of experience to the industries we serve.
Small Business Representation
We advise and represent small businesses and entrepreneurs. In the small business arena, our experience spans across all industries. We draw on past experience representing large companies ranging from Bank of America to CNN. We handle matters ranging from business formations and structuring complex financing transactions to dealing with employment-related issues and commercial transactions and disputes.
We enjoy representing small businesses and we take pride in helping them find strategic, cost-effective solutions to their legal needs. With our diverse legal background, no issue is too big or too small.
Specific Industry Experience
We work in a variety of specific industries including, but not limited to:
Commercial Real Estate Development - Several of our lawyers maintain robust client portfolios in the area of commercial real estate development. We represent all parties in commercial real estate transactions and disputes, including owners, developers, contractors, subcontractors, business owners, lenders and investors.
Construction - As part of our commercial real estate practice, we are also heavily involved in numerous construction-related issues. From lien issues to contract disputes, we regularly represent parties on all sides of complex construction contracts and disagreements.
Public Utilities - In our utility regulation and renewable energy development practice, we represent private businesses and public utility companies in the water, sewer, and electric industries. Our lawyers have decades of experience in public utility matters, and regularly appear before the North Carolina Utilities Commission, the North Carolina Rural Electrification Authority, and other state and federal agencies.
Renewable Energy - We represent renewable and alternative energy companies in all stages of the business lifecycle. We have specific experience with regulatory issues in the renewable energy field, and we are able to provide full-service legal representation for all of their corporate governance, commercial and other business needs. Our clients have included natural gas companies, hydroelectric generator companies, and several waste-to-energy ventures.
Telecommunications - We provide full-scope legal services for clients in the telecommunications space as well. We draw on our vast experience with business, banking, commercial, real estate and regulatory matters to help communications companies, mobile radio service providers and others protect their assets and satisfy their regulatory requirements.
Contact Us to Discuss Your Transaction, Dispute, or Regulatory Issue
Located in Raleigh, NC, our firm represents business clients throughout the state. Whether you are launching a new venture, battling regulators, trying to secure funding, or are involved in any other type of transaction or dispute, you can trust our experience to help get you where you want to be.
To learn more about our background or what we can do to help, we invite you to sit down with one of our lawyers for an initial consultation. To get started, please call (919) 782-1441 or submit our online form today.