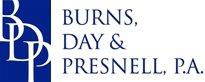 2626 Glenwood Avenue, Suite 560
Raleigh, North Carolina 27608
919-782-1441
Our Experience.
Your Edge.
PRINT THIS PAGE
Awards & Recognitions
Awards & Recognition
Averaging 23 years in legal practice and with nearly 200 years of combined experience, Burns, Day & Presnell, P.A.'s lawyers have earned the respect of their peers in the legal community. Along with case referrals and selection of our lawyers to serve as arbitrators for other firms' clients' disputes, this aspect of our firm is reflected in the numerous awards and recognitions that our lawyers have received over the years.
AV Preeminent® Ratings on Martindale-Hubbell®
Four of our lawyers have achieved the prestigious AV Preeminent® designation in the Martindale-Hubbell® Peer Review Ratings. This is the highest rating available on what is widely regarded as the most trustworthy source of independent information on lawyers practicing in North Carolina and nationwide. An AV Preeminent® rating reflects highly-favorable reviews from other lawyers and judges in the areas of legal knowledge, analytical capabilities, judgment, communication and legal experience.
The four Burns, Day & Presnell, P.A. lawyers to hold the AV Preeminent® rating are:
Bar Association Awards and Public Recognition
Our lawyers are active in bar associations at the local, state and national levels. While many lawyers claim membership in these associations, few maintain active involvement – and fewer still receive awards and recognition for their contributions. At Burns, Day & Presnell, P.A., we believe firmly in the value of contributing to the legal profession, and this along with our commitment to our clients has yielded numerous unsolicited awards.
American Bar Association's Award of Achievement, 2002-2003 – Julia Young Kirkpatrick
North Carolina Bar Association's Lawyer of the Quarter, March 2005 – Julia Young Kirkpatrick
North Carolina Bar Association's Citizen Lawyer Award, 2013 – Lacy Presnell
Wake County Bar Association President's Award – Greg Hinshaw
Burns, Day & Presnell, P.A. lawyers have also been featured in several legal and local publications:
The Best Lawyers in America (Woodward/White), Communications Law – Dan Higgins
Rising Star in Litigation, North Carolina and Georgia Super Lawyers – Jay Mills
Super Lawyer in personal injury, North Carolina Super Lawyers – Lacy Presnell
One of North Carolina's best lawyers, NC Magazine – Lacy Presnell
Our Lawyers' Academic Achievements
As graduates of some of the top law schools in North Carolina and Virginia, many of our lawyers received awards and other forms of recognition as law students and undergraduates in addition to the credentials they have received in their professional career.
For instance, while serving as a member of the Holderness Moot Court team at the University of North Carolina School of Law, Jay Mills received the Gressman-Pollit Award for outstanding oral advocacy. Emily Iverson also graduated from the University of North Carolina School of Law, earning High Honors and induction into the Order of the Coif.
Burns, Day & Presnell, P.A. | Distinguished Lawyers in North Carolina
Our lawyers provide experienced, personalized and cost-effective representation for complex transactions and disputes throughout North Carolina. This includes representing clients in commercial and business matters, estate planning, estate litigation, real estate transactions and disputes, and personal injury lawsuits. To speak with one of our lawyers about your situation, we invite you to contact us today.