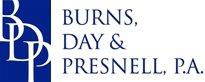 2626 Glenwood Avenue, Suite 560
Raleigh, North Carolina 27608
919-782-1441
Our Experience.
Your Edge.
PRINT THIS PAGE
Estate Litigation
Burns, Day & Presnell, P.A.'s lawyers have been strong advocates for clients in estate, fiduciary and trust litigation for more than 20 years. Our litigation team has experience representing clients in a broad range of cases challenging wills, trusts, gifts, property transfers, and change of beneficiary designations. We have represented numerous parties who could have been deprived of their rightful inheritance by fraud and undue influence, and in other cases we have helped families uphold the valid will of a deceased relative.
Our lawyers have also successfully tried and settled cases challenging property conveyances and transfers made during a person's lifetime based on incompetency and undue influence. In addition, we also have extensive experience in cases contesting documents changing the beneficiary of insurance policies, retirement accounts, investment accounts and savings accounts.
Examples of cases that our firm has handled include:
Caveat of a will signed shortly before death
Challenge of a will in which a page was fraudulently substituted after signing
Lawsuits to resolve conflicting interpretations of a family trust
Will caveats and challenges based on undue influence and mental incompetence
Actions to set aside deeds and gifts on grounds of lack of mental capacity and undue influence
Our estate and trust litigation team will be happy to schedule a free consultation with you.
Breach of Fiduciary Duty
A fiduciary refers to a person who has authority and is obligated to care for the assets or rights of another through a relationship of trust and confidence. In estate law, fiduciaries typically include attorneys in fact (acting pursuant to a power of attorney), executors, and trustees. Fiduciaries are bound by the highest duties, to include the requirements to act in good faith and in the best interest another. A claim for breach of fiduciary duty arises when an individual violates their responsibilities as a fiduciary. Grounds for breach of a fiduciary duty include:
Fraud
Negligence
Self-serving acts
Permitting a co-trustee to commit a breach
Co-mingling funds
Theft of funds
Misappropriation of funds
At Burns, Day & Presnell, P.A., we have more than 20 years' experience representing clients in breach of fiduciary claims.   Our estate and trust litigation team will be happy to schedule a free consultation with you.
Will Disputes
For many people, it is difficult to imagine arguing over the assets of a deceased loved one. Many people believe that it will never happen to their family, and we hope that it does not. However, such disputes do arise and in those circumstances, there are certain procedures that allow potential heirs to challenge the validity of a will. The process in North Carolina is called a caveat proceeding.
Caveat Proceeding
A caveat proceeding allows an interested party to challenge the validity of the will. An interested party is any person who would or should have inherited assets from the estate per North Carolina statutes or any beneficiary named in a previous will. This could include family members, caregivers, and/or friends. If the challenge to the will is successful, the will can be voided entirely or in part. If the entire will is voided, the court will distribute property as if the will had never existed.    
Grounds for Challenging the Will
There are multiple grounds to challenge a will. One of the most successful grounds to challenge a will is lack of testamentary capacity. To have a valid will, the testator (the legal name for a person who makes a will) must have had testamentary capacity when they signed the will. Testamentary capacity can be defined broadly to mean the level of mental competence to guarantee that the testator knew what they were doing. Determining whether or not testamentary capacity existed at the time a will was signed can be difficult. In such instances, cases frequently require an analysis of medical records and testimony from the testator's doctors.
Another successful ground to challenge a will is undue influence. Undue influence means that someone or several people had such control and influence over the testator that he or she signed the will and agreed to its terms. Undue influence requires more than just persuasion, it requires an overpowering level of influence.
At Burns, Day & Presnell, P.A., we have more than 20 years' experience challenging and defending wills and have represented clients throughout North Carolina. Our estate and trust litigation team will be happy to schedule a free consultation with you.
Trust Disputes
We regularly represent trustees and beneficiaries in disputes involving trusts. A dispute regarding a trust typically centers on one or more parties disagreeing as to the disposition of trust assets or the management of trust assets. Common scenarios regarding trust disputes include:
The trustee misappropriates trust property.
The trustee engages in self-dealing.
The trustee breaches their fiduciary duty.
The trustee refuses to account for what has happened to a beneficiary's inheritance.
The trustee is not upholding their obligations, pursuant to the trust.
In addition, beneficiaries and family members may challenge a trust for several reasons to include, undue influence, mental incapacity, duress, fraud, and failure of the purpose the trust. At Burns, Day & Presnell, P.A., we have over 20 years' experience challenging and defending the actions of trustees. Our estate and trust litigation team will be happy to schedule a free consultation with you.