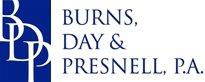 2626 Glenwood Avenue, Suite 560
Raleigh, North Carolina 27608
919-782-1441
Our Experience.
Your Edge.
PRINT THIS PAGE
Estate Planning and Trusts
Creating an estate plan is a very important decision to make sure your loved ones and assets are protected, should the unexpected occur. At Burns, Day & Presnell, P.A., we provide custom estate plans that reflect your individual needs and goals. Most importantly, we build lifelong relationships with clients, so you can be sure we are here for you and your loved ones for all the exciting years to come. Let us guide you through the estate planning process with a caring and collaborative hand.
Burns, Day & Presnell, P.A's attorneys have helped clients with the following:
Preparation of estate plans
Wills
Establishing revocable and irrevocable trusts
Powers-of-attorney
Healthcare powers-of-attorney
Living wills
Probate and administration of estates
Guardianship matters
Dispute resolution