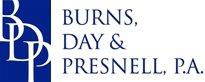 2626 Glenwood Avenue, Suite 560
Raleigh, North Carolina 27608
919-782-1441
Our Experience.
Your Edge.
PRINT THIS PAGE
Real Estate
Real Estate
Burns, Day & Presnell, P.A. excels at helping clients with real estate law and transactions and has been doing so for more than 30 years. Our real estate attorneys have advised clients and assisted with transactions involving the acquisition, development, leasing and sale of commercial and residential real estate.
Our firm's real estate clients include developers, builders, lenders, investors, and residential home purchasers. Our attorneys can help you when you are buying, selling, or leasing real estate.
A representative sample of our real estate work for our clients includes:
Builder representation in connection with contracts, acquisitions, and financing of various types of real estate projects
National developer/builder representation for contract negotiation, acquisition and development in Triangle area, home closings, short sale negotiations and loan modifications 
Borrower representation on conduit financing and normal lender financing of shopping centers and commercial buildings
Purchaser/borrower representation in mixed-use condominium office building
Developer representation for numerous planned-unit developments and preparation of planned community declarations and covenants
Lender representation of builder and developer acquisition and development lines of credit for national and local lenders
Owner representation of several area shopping centers regarding acquisition, development and leasing
Developer representation on acquisition, entitlement and permitting of a mixed-use coastal development