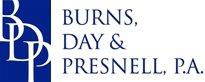 2626 Glenwood Avenue, Suite 560
Raleigh, North Carolina 27608
919-782-1441
Our Experience.
Your Edge.
PRINT THIS PAGE
Trials and Dispute Resolution
Experience has shown that the most favorable settlements are achieved by lawyers who are prepared and capable of taking your case to trial. The lawyers at Burns, Day & Presnell, P.A. have extensive experience in trying cases to a verdict and advising clients regarding settlements.
Every case brings both risks and opportunities. While preparing cases for trial, we help you understand the risks, exposure, and potential recoveries of your claim. A client needs counsel and advice about the advantages and disadvantages of settlement offers. Sometimes better results are available by settling a claim, and in other situations it is necessary to have a judge or jury resolve a dispute. An important part of our job is to help our clients evaluate which cases should be settled and which ones should go to trial.
We believe that clients receive more favorable settlements when their lawyers are prepared for trial. When a favorable settlement is not offered by an opposing party, our firm's lawyers have the time and experience to represent our clients' interests at trial. Our clients appreciate our strong advocacy on their behalf.
In some situations, a trial does not result in a final resolution of a case. Parties often appeal verdicts to the North Carolina Court of Appeals or the North Carolina Supreme Court. Appeals in federal court cases are to a federal appellate court. Our lawyers have more than 30 years' experience in handling appeals in state and federal appellate courts.
Our lawyers often use dispute resolution alternatives. Mediated settlement conferences, arbitrations, mini-jury trials and other alternative dispute resolution options frequently offer cost-effective ways to resolve disputes and claims.
Mediations were introduced in North Carolina in the early 1990's. Our firm quickly recognized the important role that mediated settlement conferences play in many cases. We have been helping our clients resolve cases through mediation since the early 1990's and Lacy Presnell has been certified since 1992 to serve as a court-appointed mediator.
At Burns, Day & Presnell, P.A. we are selective in the cases we accept, allowing our lawyers to devote the time and resources necessary to represent our clients' interests.