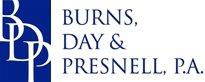 2626 Glenwood Avenue, Suite 560
Raleigh, North Carolina 27608
919-782-1441
Our Experience.
Your Edge.
PRINT THIS PAGE
Contract and Business Disputes
Burns, Day & Presnell, P.A. represents clients in a wide variety of business and contract disputes. Contract disputes and business disputes may arise in different situations. Some common disputes include:
One party not honoring its promise in an agreement and breaching its contractual obligations.
Disagreements and disputes about the interpretation of contract language.
Business disputes arising from unfair or deceptive competition or trade practices.
Coverage disputes between insurance companies and individual or business policy holders.
The firm has represented clients in disputes and lawsuits involving breach of contract claims, unfair and deceptive trade practices, fraud, non-competition agreements, employment contracts and claims, liens and construction issues, insurance coverage issues, business insurance claims, real estate claims, shareholder and partnership disputes, business and partnership dissolutions, and fire and business disruption claims. Representative cases involving business and contract disputes include:
Claims of breach of contract to purchase or sell a business.
Breach of contract claims regarding a party's refusal to purchase real estate.
Claims on behalf of defrauded investors in state and federal courts.
Constructive fraud claims concerning development of new product.
Representation of employers and employees regarding efforts to enforce non- competition agreements.
Dissolution of closely-held businesses
Shareholder disputes involving family-owned businesses.
Franchise contract disputes