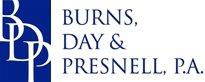 2626 Glenwood Avenue, Suite 560
Raleigh, North Carolina 27608
919-782-1441
Our Experience.
Your Edge.
PRINT THIS PAGE
Contact Burns, Day & Presnell, P.A.
Speak with Our Raleigh Lawyers Today
At Burns, Day & Presnell, P.A., our size coupled with our attorneys' extensive experience allows us to offer a level of service and pricing that you will not find at other firms. We are committed to providing our clients with the best possible legal representation while finding ways to keep their costs down and minimize the disruptions to their businesses and personal lives.
Whether you need help for an estate-related dispute, have been injured in an accident, are looking for a trusted advisor for a real estate deal, or need a trial-tested advocate for business or commercial litigation, we invite you to contact us to see for yourself what we have to offer. We provide free consultations for all litigation matters (including personal injury claims), and are happy to discuss rates up front so you know what you are getting for your money.
Contact Us
You can contact us by phone or online, and our offices are conveniently located on Glenwood Avenue in Raleigh.
Office Address:
2626 Glenwood Avenue, Suite 560
Raleigh, North Carolina 27608
Mailing Address:
Burns, Day & Presnell, P.A.
Post Office Box 10867
Raleigh, North Carolina 27605
Phone and Fax:
Phone: (919) 782-1441
Fax: (919) 782-2311
Real Estate Fax: (919) 782-0244
Why Choose Burns, Day & Presnell, P.A.?
Part of what sets our firm apart is our ability to skillfully handle cases in a wide range of practice areas. When your attorneys have nearly 200 years of collective experience, you've got a deep well of knowledge on your side.
We invite you to contact us if:
You need help with an estate dispute. Estate disputes are a significant portion of our practice. Let us help you litigate your case.
You need help with estate planning. We use our experience in estate litigation to provide sage advice for developing estate plans.
You have been injured or a loved one has been killed in an accident. We take most personal injury and wrongful death claims on a contingency fee basis, which means that there are no upfront costs.
You need an experienced advisor for a real estate transaction or dispute. From sales and acquisitions to construction-related litigation, we regularly represent clients in a wide range of real estate matters.
You need a business savvy lawyer. Whether you are starting a business, growing a business, selling a business, or are embroiled in a business disagreement, you can trust us to provide the advice and representation you need.
Your utility company needs legal representation or regulatory guidance. We maintain a busy utility regulation and renewable energy development practice focused on representing utilities and telecommunications companies in negotiations, litigation and regulatory affairs.
Contact Us Online to Get Started Today
Our lawyers represent businesses and individuals throughout North Carolina. We have earned the trust of our long-time clients, and we want to earn yours as well. To schedule a time to speak with an attorney at Burns, Day & Presnell, P.A., please contact us today. We look forward to working with you.