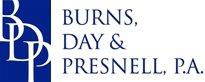 2626 Glenwood Avenue, Suite 560
Raleigh, North Carolina 27608
919-782-1441
Our Experience.
Your Edge.
PRINT THIS PAGE
Liens and Construction
At Burns, Day & Presnell, P.A., we understand the business of construction - from drafting contracts to protecting lien rights to trials and arbitration hearings. We have the experience and skill to help our clients deal with these situations.
Appropriate contracts are essential in the construction industry. A written contract which accurately reflects the parties' agreement and intent can help avoid costly problems and disputes during and after the construction process. We assist our clients by either helping them draft contracts, or in reviewing and revising contracts proposed to them by other parties.
Disputes involving collection and payment issues often arise in connection with commercial and residential construction projects, and we have significant experience in helping our clients resolve such disputes.
North Carolina law provides specific lien rights to protect the interests of parties who provide labor, materials and related services in connection with construction projects. At Burns, Day & Presnell, P.A., our lawyers have significant experience representing contractors and suppliers asserting lien rights, as well as owners defending lien claims against their property. Our lawyers have handled many claims of lien against real property and liens on funds owed, as well as payment and performance bond claims. We have assisted clients in connection with a wide variety of commercial projects, and we help residential builders deal with issues and disputes. Our representation includes working with contractors and their sureties to defend and resolve bond claims.
Our firm counsels owners and general contractors about responding to claims and works to creatively find ways to keep projects moving forward, despite ongoing disputes. Our lawyers are experienced in litigating construction disputes in North Carolina courts and in arbitration before the American Arbitration Association and private arbitration panels.
Our firms handles cases involving:
Filing and perfection of claims of lien and liens on funds
Preparation and review of construction contracts
Representation of Subcontractors and Suppliers
Payment and Performance Bond Claims and Defense
Prompt Pay Act claims
Delay/Liquidated Damages Claims and Defense
Our firms' construction and lien clients include:
Property owners
Developers
General contractors - both commercial and residential builders
Subcontractors and Suppliers
Business owners
Individual investors